Happy last day of September!! I'm honestly so excited for this month to be over already because it means we're moving on to October, one of my very favorite months of the year. I have to say though, I did enjoy September reading-wise.
Everything I read this month was actually so good, but it wasn't until I put this wrap up together that I realized why: I only read books by three of my favorite authors, plus a reread of an all time favorite. I was like OHH… well now that makes sense lol.
I also have a quick little announcement at the end of this post and I'm so thrilled to share it with you guys! It's something I've been wanting to do that's been on my mind for a bit, but I've only just got around to it. And I couldn't be more excited. 🙂
But first, here's all those good books I read in September:
---
A Conjuring of Light by V.E. Schwab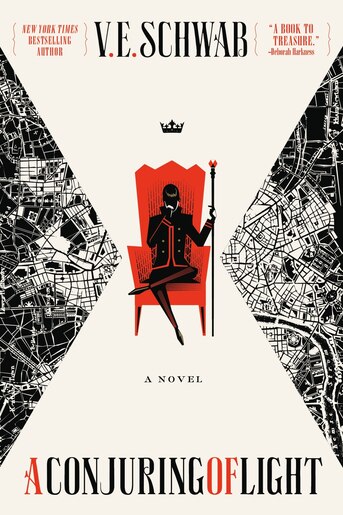 Oh ya know, just one of the best books I've read in my life. I technically started this on the last day of August, but read most of it in September so I'm just gonna go ahead and include it. But wow it feels like ages ago that I read this series (still missing it). Anyway I've already mentioned this too many times on my blog, but I don't think I can ever say it enough: I freaking love Shades of Magic.
The Gentleman's Guide to Vice and Virtue by Mackenzi Lee
Shades of Magic ended up sending me in to a mini book slump (ugh), but I was partially glad because that gave me an excuse to reread one of my absolute favorite books of all time. Returning to Gentleman's Guide brought me such pure and utter joy. It's actually ridiculous how much I adore Percy, Monty, and Felicity… like, what a TRIO. This was very much a comfort reread, and it was perfect, because it sent me right out of the slump.
Vicious by V.E. Schwab
I went straight out of that slump aaaand… right back to Schwab. In preparation for Vengeul, the sequel, I decided to pick up Vicious to see what all the hype was about. Folks, the hype was accurate. I didn't know what I was getting myself in to here, but I was more than satisfied with the outcome. Antiheroes, superpowers, an intense plotline, a zombie dog… it truly has it all. Also, I'd like to just take a moment to say that love Victor Vale. That's all.
A Very Large Expanse of Sea by Tahereh Mafi
While waiting for Vengeful to come out, I decided I'd pick up a few contemporary reads, and it was perfect timing because I was approved for this ARC! This was one of my most anticipated releases of the year and I was happy that it exceeded my expectations. I really adore Tahereh Mafi and this entire story. It's such an important one. I shared my review of this one the other day if you want to hear more of my thoughts!
Nick and Charlie by Alice Oseman
I continued on with the contemporary reads with this cute novella. I'm fully invested in Nick and Charlie's story in Alice Oseman's webcomic Heartstopper, but I've never read about them elsewhere. If you don't know, all of Alice Oseman's stories take place in the same universe and the characters often show up across her works. So technically I should've read this novella after her book Solitaire, which I didn't, but… I make poor decisions. I adored it anyway, of course, because it's NICK AND CHARLIE.
Radio Silence by Alice Oseman
After that, I was just in the mood for more Alice Oseman. While this would've been a good opportunity to read Solitaire, instead I picked up Radio Silence on a whim. And boy am I glad I did. I wasn't expecting this to be a 5 star read, and in all honestly, I would've given it more stars if I could. Not only were the characters completely lovable, but it ended up being a personally relevant story to me in so many ways. Loved, loved, loved this one.
Vengeful by V.E. Schwab
What I'd been waiting for!! I finished Vengeful yesterday and am happy to report that I was not disappointed (who am I kidding though, I don't think it's possible for Schwab to disappoint me). It was so nice to read about our makeshift little family of Victor, Sydney, and Mitch again. I MISSED them. I'm still conflicted on how I felt about some things (like the new characters, even though I loved that they were badass ladies), but this was definitely a solid read. Now if Schwab could not make us wait five years for a sequel, that would be much appreciated.
---
OKAY ANNOUNCEMENT TIME
Alright here's what I'm very excited to tell you guys: I MADE A BOOK TWITTER!
AHHH I'm more than hyped about this. I've been thinking of making one for quite a while … and I finally did it !!! I don't know how many of you guys have a book twitter, but please let me know if you do. I'd love to follow you!! You can find me @brithebookworm_ or let me know your @ in the comments 🙂
Right now, I don't have much up there besides a little thread introducing myself. I'm in the midst of following authors and other bookish accounts, so if you have any recs on who to follow, I'd love to know that as well!
ALSO, if you are not on book twitter, no worries because I'm never going to abandon WordPress. I'll still be on here just as much talking about books with all of you.❤️
Thanks for being supportive and for helping me feel confident enough to step out of my comfort zone to join book twitter, friends. I'm so excited about it and can't wait to be part of the community. :')
---
Hope you guys had a great month of reading and that you have an even better October!!