Happy International Women's Day!! One of the greatest days of the year, truly.
To celebrate this occasion, I've compiled a list of ten of my favorite female book characters. These gals have inspired me, taught me important lessons, made me feel seen, and so much more. This post is all about honoring them and screaming about my endless love for them!!
In no particular order, here's ten female characters I love from fiction ~
---
Genya Safin
The Grisha Trilogy by Leigh Bardugo
I'll forever be hyping up Genya because I believe she's much too underrated. I absolutely love her. She went through a lot she didn't deserve, but the way she pursued despite it all is something I admire so much. That one scene in Ruin and Rising when she stands up to the king? I wish I could've transported myself in to the book to applaud her. And that's also where she said one of my very, very favorite quotes ever:
"I am not ruined. I am ruination"
Tessa Gray
The Infernal Devices by Cassandra Clare
This list wouldn't be complete if I didn't mention my fave. Honestly, all the love I have goes to Tessa. I've always seen so much of myself in her (and not just because we're both brunettes who love Will and Jem with all our hearts) but her independence, her quiet demeanor and her bookishness are all traits I identify with. She's so peaceful, and fierce, and I could shout about how amazing she is forever. My role model, really.
"One must always be careful of books," said Tessa, "and what is inside them, for words have the power to change us."
Art by Alexandra Curte
Evelyn Hugo
The Seven Husbands of Evelyn Hugo by Taylor Jenkins Reid
Did I just read this book last month but already consider Evelyn one of my favorite characters ever? Yes, yes I do. Evelyn is the definition of iconic, she's so intelligent, and she always goes after what she wants like a true Slytherin. Also I'm convinced The Lucky One by Taylor Swift is written about her life story (we can just ignore the fact that the song came out way before the book did, okay?)
"Never let anyone make you feel

 

ordinary."
Jude Duarte
The Folk of the Air by Holly Black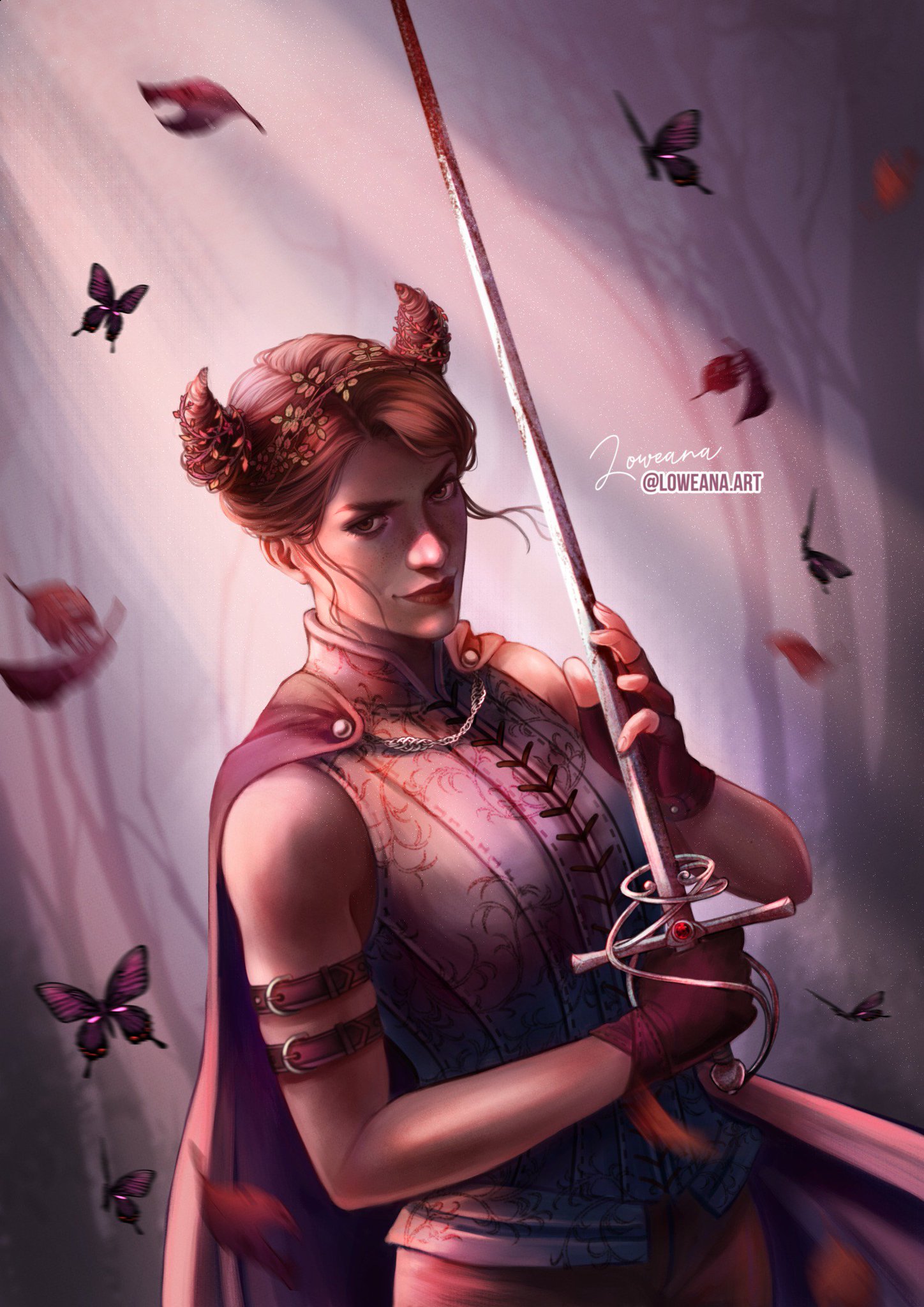 You may or may not have noticed that I can't seem to stop talking about Jude lately, but I just… I really love Jude Duarte. I finished The Wicked King recently (it was so! good!) and I can't get over how incredible she is. She's by far one of the most complexly written and intriguing characters I've ever read. And she's definitely a force to be reckoned with, which only makes me love her more.
"The odd thing about ambition is this: You can acquire it like a fever, but it is not so easy to shed."
Art by Loweana

Cather Avery
Fangirl by Rainbow Rowell
When I first read Fangirl in high school, Cath taught me something important: I could be unapologetically myself. I always felt weird for being in to books and fanfiction back then, so coming across a character who liked these same things was life-changing. And Cath, well, she basically is me. Being an anxious college student, growing up with a book series, and (of course) loving Simon and Baz too much are all things I can relate to. I'll always be grateful for her.
"Because I'm the kind of girl who fantasizes about being trapped in a library overnight."
Inej Ghafa
Six of Crows by Leigh Bardugo
Is it actually possible not to love Inej? I don't think it so. What I like most about her is how fiercely determined she always was to make her future what she wanted. She remained true to what she believed in and what she set out to do. Also, I liked that she had a generally calm and quiet manner that she could switch in a second and become unrelentingly ruthless.
"She was not a lynx or a spider or even the Wraith. She was Inej Ghafa, and her future was waiting above."
Art by MORGANA0ANAGROM
Juliette Ferrars
Shatter Me by Tahereh Mafi
I feel like Juliette tends to get hate, but I have endless appreciation for her. She was the first character I encountered who experienced mental health issues on page in a fantasy/dystopian book. This was monumental to me as an anxiety-ridden teenager who thought I could only be "strong" if I were more like Katniss, or Tris, or the other "badass female leads" in YA. I'll always value Juliette for defying that trope and proving you don't need to be constantly fearless to be a hero.
"On the darkest days you have to search for a spot of brightness, on the coldest days you have to seek out a spot of warmth; on the bleakest days you have to keep your eyes onward and upward and on the saddest days you have to leave them open to let them cry. To then let them dry. To give them a chance to wash out the pain in order to see fresh and clear once again."

Frances Janvier
Radio Silence by Alice Oseman
I'm rereading Radio Silence right now and reliving all my love for this book and all my love for Frances. I'm actually annotating this time (in hopes that I can get a review up like I promised to ages ago) and I've been highlighting basically everything she says. She's so genuine, a wonderful narrator, and one of the wisest characters ever. Also, her style? Iconic.
"I'm sure you think I was complaining about nothing. You probably think I'm a whiny teenager. And yeah, it was all in my head, probably. That doesn't mean it wasn't real."
Art by Alice Oseman
Isabelle Lightwood
The Mortal Instruments by Cassandra Clare
Another character who I definitely couldn't complete this list without. When I first read TMI, Izzy grew on me so much until she eventually became my favorite character from the series. This hasn't changed to this day. I still get ridiculously happy when she shows up in Cassandra Clare's other works. Isabelle is a legend if there ever was one.
"Isabelle didn't seem like the type of girl to belong to someone."
Luna Lovegood
Harry Potter by JK Rowling
I had to pick one of the gals from Harry Potter, and my go-to was Hermione, but then I was like waaaait… but Luna! My fellow Ravenclaw. I've loved Luna and her kindness, her uniqueness, and her curiosity so much since I was a kid. She has the most imaginative mind and never once wasn't completely herself.
"We're all still here," she whispered, "We're still fighting."
Art by Alexandra Curte
---
I could make an endless list, but you get the idea. These ladies are everything to me and I could praise them forever.
Happy International Women's Day to all my fellow girls out there ❤️
---
I'd love to know
Who are your favorite female characters? Do you see any on my list? How are you celebrating International Women's Day?